Posted by Admin
On Tuesday, 8 October 2013
0 comments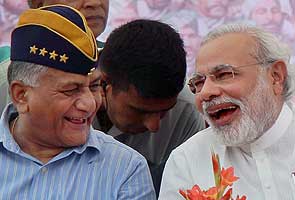 The leak is selective, the government mum, the UPA ministers crying foul and the army in a tight spot. General V K Singh's seemingly preposterous and foolish admissions have sparked controversy with eight of his predecessors trashing his claims as a fire-fighting maneuver. However, it is imperative to remember that the report is a factual account, bearing the official stamp of the DGMO and the inquiry was done by an entire board and not just a single individual.
The general has become one of the most controversial figures in recent times: he has been under fire for his promotion, pursuing his own agenda, and politicizing the institution. Saving face his become even more difficult for the army after he appeared on stage at a rally in Rewari for Indian military veterans hosted by the BJP. Sharing the podium with Narendra Modi in the current context has done nothing to restore the institution's integrity.
While leaders like Subramanian Swamy assert that VK Singh is being victimized for proximity to Modi and the charges leveled against him are "bogus" at best, news of the latter joining the BJP is doing the rounds. There is little need to emphasize the kind of support and influence Gen V K Singh has, with being able to bulldoze his way to the apex rank to allegedly forming the TSD to destabilize the Omar Abdullah government in J&K.
The soft under-belly has been exposed and that too at a time when the ruling Congress party is finding it exceedingly difficult to remain populist and elections draw near. The Indian army will have to construct a more forceful narrative to counter allegations of extremism and hence, support within the institution for it- its mask has come off and the controversy a mainstream spectacle. Besides, little is left to the imagination when a current Prime Ministerial candidate blamed for inciting communal violence and a controversial army chief share the spotlight together. This time around, blaming Pakistan for destabilizing and inducing terror might be harder than it seems.
ZoneAsia-PK