Posted by Admin
On Tuesday, 10 September 2013
0 comments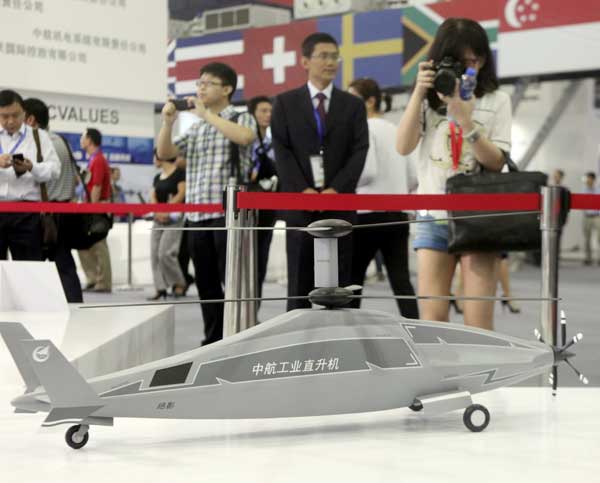 China is developing helicopters with the ability to fly at speeds twice the current average,according the country's major aircraft maker.
Lin Zuoming, chairman of Aviation Industry Corp of China, said the company is developing new-generation helicopters that can travel up to 500 kilometers an hour.
"We have been keeping pace with other countries in the research and development of ultrafasthelicopters," he added.
Lin was speaking after models of several new-concept helicopters were presented at theSecond China Helicopter Expo, which concluded in Tianjin on Sunday. His company produces awide range of helicopters, from ultra-light models to heavy-lift helicopters.
The Blue Whale tilt rotor aircraft being developed by AVIC's Helicopter Research and Development Institute will have a maximum takeoff weight of 60 tons and a payload of up to 30tons, an engineer at the institute told People's Daily.
He said the Blue Whale will be able to reach speeds of up to 700 km/h.
The aircraft will be able to perform vertical takeoffs and landings in areas with complexgeographical conditions and conduct disaster relief supply airdrops and other heavy-lift duties.
It also can serve a wide range of military purposes such as battlefield reconnaissance, patrolsand air-to-ground strikes.
The Jueying-8, an unmanned, high speed helicopter with coaxial rotors, was also featured atthe expo. The aircraft, with much of its airframe made of composite materials, was designed totest the feasibility of ultra-fast helicopters.
A prototype of the Jueying-8 is expected to make its maiden test flight in 2015, and designershope it will achieve a maximum speed of 400 km an hour.
Russia and France have also begun to develop ultrafast helicopters.
Russian Helicopters, the leading Russian designer and manufacturer of helicopters,announced in May that it is cooperating with industry and defense authorities in Russia on thedevelopment of a high-speed helicopter, which is expected to perform its first test flight before2020.
Meanwhile, the Eurocopter X3, an experimental high-speed compound helicopter beingdeveloped by the European helicopter giant, has been reported to be the fastest helicopter inthe world, after reaching a top speed of 472 km/h during several test flights in June.
Ultrafast helicopters like the Eurocopter X3 will be able to conduct search-and-rescue missions,border patrols, passenger transport and a host of other military operations, China AviationNews reported.
Fang Yonghong, director of unmanned helicopters with the Helicopter Research andDevelopment Institute, said China has cracked core technologies in key areas such as rotors,flight control and avionics, and developed a wide variety of unmanned helicopters.
In addition to high-speed helicopters, the institute is also developing an all-electric helicopter,Fang said.
"Seeing that AVIC has the confidence to display those advanced, new-concept helicopters atthe expo, we can conclude that China has authentically achieved substantial progress inhelicopter research and development," said Wu Peixin, an editor at Aerospace Knowledgemagazine.
"The appearance of these helicopters indicates Chinese designers and technicians haveaccumulated profound experience in composite material and engine research."
After the unmanned prototype of Jueying-8 passes tests, it's highly possible that designers willdevelop manned variations of the aircraft, Wu said.